Animalia Humorosum
::: by Ólafía L. Óla :::
Aesop's animal fables made more believable with a modern humourous twist
This is an illustrated children's storybook based on Aesop's Fables. The stories have been made more believable by changing the ending with a humorous twist. The book has full-colour pages with big text.
Some very well-known stories have been included:
The hare and the tortoise
The lion and the mouse
The wolf and the dog
Two fellows and a bear
Dog in the manger
Shepherd's boy
Belling the cat
Two foxes and the grapes
Two crows and a pitcher
The goose with the golden eggs
Wolf in sheep's clothing
The fox and the crow
Format
Store
Price
Colour paperback
Amazon
$12
Ebook (print-replica)
Amazon
$0.99 or FREE
Ebook (EPUB)
books2read.com/animalia
Notes
There are 26 pages of real content in this 30-page book.
The paperback has large fonts and edge-to-edge color.

The following sample is a low-resolution watermarked PDF but it is fully functional. The pages and text are much bigger in the original.

In this book, I am using an Icelandic name for the author because it is unique and more pronounceable/memorable for Western readers. It is however difficult to type Ólafía L. Óla. Olafia Ola will do just fine.
Animalia Humorosum is not Latin for animal humour but seems like it is. An accurate translation is humid animals.
Other children's books:
Subscribe to my newsletter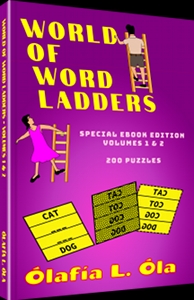 The details are mentioned in my email newsletter blogpost. Full/sample PDF ebooks of several books are listed in it. You do not have to subscribe to download them. However, if you do subscribe, you get a FREE 200-puzzle combined ebook version of my World of Word Ladders books.