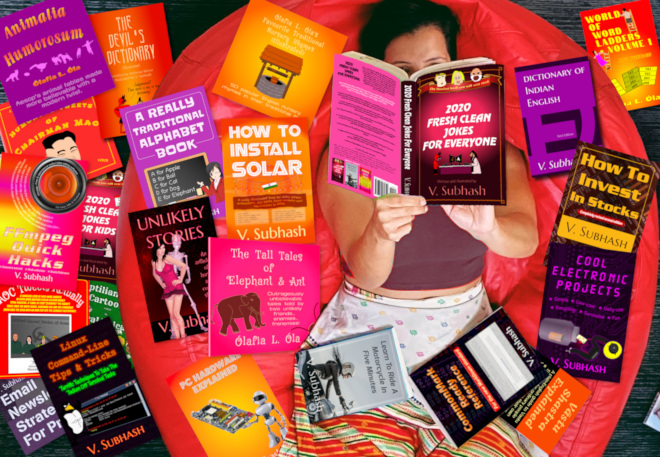 When I started with self-publishing in 2020, you could find my books only at: https://www.amazon.com/author/vsubhash. Later, I had also started using pseudonyms such as Ólafia L. Óla. Outside Amazon, my ebooks became available from Apple Books, Barnes & Noble, Scribd and Vivlio). My ebooks are also available for a fraction of the list price from public and school libraries through apps such as Overdrive. So, I created this page to have the most up-to-date information about all my books in one place.
Attention Indian Readers: After the moronavirus pandemic and lockdown, my paperbacks are not printed in India. They are imported by third-party sellers from Amazon USA/UK and sold on Amazon India. Among them, BooksWagon.com and Atlantic seem to have reasonable prices while others like Indie Culture are selling some of my books at inflated prices. I want my books to sell but not at those prices. I would advise Indian buyers to compare the prices of my books with BookDepository.com. This Amazon subsidiary does free shipping worldwide and it has the most reasonable prices. With all these sellers, it takes two to three weeks for the books to arrive in India.
The 2020 jokebook has the best one-liners ever written by one author in English. It has over 3100 jokes spread over three parts.
Part 1 (For Learning) is for kids. Part 2 (For Fun) and Part 3 (Only for intellectuals) are written for all ages. They provide hedonistic enjoyment of humour and also contain some extremely sharp political/satirical humour. Part 3 is clearly marked with warning signs to prevent accidental 'triggering' of sensitive adults. All jokes are family-friendly and child-friendly. No 彡 or (‿ˠ‿) humour.
Target: Ages 20 and above
First published: July 2020
Pages: 276
This is a subset of the 2020 jokebook with only 2200 jokes. It has all of Part 1 (For Learning) and some non-political jokes from Part 2 (For Fun) & Part 3 (Only For Intellectuals).
Target: Ages 10 to 19
First published: July 2020
Pages: 180
Format
Store
Price
Paperback
Amazon
$12
Paperback
Barnes & Noble
$12
Ebook
This will never be published. This book is for kids and kids should learn from physical books.
This was the first installment of the 2020 jokebook with 470 jokes when I wanted to test self-publishing. It has been retained as an ebook sampler. The paperback option provides less value for money compared to the final 2020 jokebook but it has almost all of the 'politically hot' jokes.
Target: Everyone
First published: February 2020
Pages: 149
Quickly learn to use the free command-line video-editing utility FFMPEG - cut, copy, record, edit, tag, convert, rotate, flip, resize, crop, combine, compose, blur, sharpen, smoothen, side-by-side split, PIP inset, fade in/out... Also learn to use subtitles, audio/image files and metadata with video.
This book provides an FFmpeg tutorial, hack collection and desk-side reference.
Target: Anyone who needs to work with audio/video files and can use the command line (command prompt)
First published: May 2020
Pages: 152 (FULL-COLOUR)
Because this is a book about multimedia processing, it has to be in colour. Full-colour books are expensive to print.
In the spirit of open source, I have decided to make the ebook free in April 2021, one year after publication in March 2021 to celebrate one year in publishing. This has been my most popular and profitable title so I hope you buy the paperback or any of my other books.
This is the first book ever written on CommonMark, the new MarkDown standard.
CommonMark is replacing Markdown as the de facto standard for low-markup text. CommonMark hit the ground with a well-defined standard from Day 1 and is set to replace and overtake MarkDown. StackOverFlow.com and other sites have already adopted it. CommonMark is MarkDown done right. It is highly compatible with the original MarkDown and resolves most of its ambiguities. This book provides a tutorial, hacks collection and a ready reference for the new standard.
Target: Authors, web designers, content/technical writers
First published: June 2020
Pages: 60 (42 pages with real content)
| Format | Store | Price |
| --- | --- | --- |
| Paperback | Amazon | $7.70 |
| Ebook (print replica) | Amazon | $6 |
Of course, you can learn to ride a motorbike in five minutes! For most of my life, I did not know how to ride a motorbike. But, when I had to do, it took me only five minutes. On my first ride on my first bike, I travelled nearly 100 kilometres, across two cities and one national highway. Acquiring the skill takes less than five minutes and honing it will require a few weeks of practice.
Target: Anyone who can ride a scooter/scooterette (not the skateboard-like thing)
First published: July 2020
Pages: 40 (30 pages of real content)
Vastu Shastra Explained is a plain-English Vástu Śastra building-architecture guide for those who wish to draw their own Vastu-compliant house plans. The book does not upsell Vaastu as a panacea for all ills nor does it portray Vastu as the Indian Feng Shui. Instead, it presents Vastu as a collection of time-tested best-practices in Indian building architecture.
Target: Future home buyers/builders
First published on: July 2020
Pages: 40 (30 pages with real content)
The ebook can also be borrowed for a fraction of the price from many public and school libraries.
This children's book bundles an alphabet book (with a writing work area on each letter page) and a jokes-and-puzzles book. The alphabet book uses the same words that have been traditionally used to teach young kids. Young preschoolers can practice reading and writing the English alphabet with this book. The jokes and puzzles are of course new and are sourced from my book 2020 Fresh Clean Jokes For Kids.
Target: Ages 3 to 12
First published: August 2020
Pages: 34 (32 pages of actual content)
| Format | Store | Price |
| --- | --- | --- |
| Colour paperback | Amazon | $7.70 |
This book not only explains how to create user-friendly email newsletters but also helps you improve email deliverability, organically grow your mailing list, understand industry-standard best-practices and apply practical troubleshooting tips and tricks.
Target: Online marketers
First published: August 2020
Pages: 40 (33 pages of actual content)
| Format | Store | Price |
| --- | --- | --- |
| Paperback | Amazon | $7.70 |
| Ebook (print replica) | Amazon | $6 |
This is an illustrated children's storybook based on Aesop's Fables. The stories have been made more believable by changing the ending with a humorous twist. The book is a large-print full-bleed full-colour paperback with a glossy cover.
Target: Ages 3 to 12
First published: October, 2020
Pages: 30 (26 pages of actual content)
Ólafía L. Óla will henceforth be my pseudonym of children's books. The ebook options are for parental review. I publish only paperbacks (not ebooks) for children.
This series of word ladder puzzles books currently has two volumes.
Target: Ages 6 and above
First published: December 2020
Puzzles:

100 in each paperback volume
200 in ebook
Is there a better gag gift than the Devil's Dictionary? This 2020 illustrated version of the text-only original (1911) by Ambrose Bierce has contemporary illustrations and the neat easy-on-the-eye look of any new dictionary (modern fonts, two-column pages, starting/ending words on every page).
Target: Any normal human (that means excluding intolerant, lefty, liberal, progressive Communist, Socialist, Feminist,... excuses for human beings)
Illustrations: 17 (including Alexandria Ocasio Cortez (AOC), Bill Gates, Don Lemon, Elon Musk, Joe Biden, Tedros Adhanom... meeting the Devil)
First published: December 2020
Pages: 160
The Dictionary Of Indian English, in its first edition, is a glossary of English words or phrases that have been invented in India or have meanings that are different from the ones specified in dictionaries published in the West. Currently, it has around 400 words. In future editions, it will become a full-fledged dictionary.
Target: Non-Indians who need to read Indian fiction or news.
Pages: 36 (26 pages of real content in the paperback)
First published: December 2020
The political correctness pandemic has caused many nursery rhymes to be rewritten or eliminated altogether. This illustrated children's book has 50 popular English nursery rhymes in their traditional form.
Target: Children under 5
First published: January 2021
Pages: 44 (40 with real content)
| Format | Store | Price |
| --- | --- | --- |
| Colour paperback | Amazon | $12 |
This is a plain-English guide to investing in the stockmarket. It assumes that you do not know anything about how stocks, company law, finance or commerce. It has some useful 'extra' information that you will not find in any investment book and no business school will teach you. Mere book knowledge about stockmarkets will not help you understand the markets. Markets are influenced by news and information (there is a difference). This completely revised expanded second edition continues its original premise with up-to-date information.
Target: Anyone who wants to invest in shares and bonds
First published: January 2021
Pages: 94
This FULL-COLOUR paperback is a collection of 20 electronics projects for students and DIY hobbyists. The projects are simple, low-cost, daily-use, recycling, survivalist and fun.
Target: Any beginner electronics hobbyist
First published: February 2021
Pages: 40 (33 with real content)
This is a tips-and-tricks collection for Linux command-line warriors. Because of its ancient history, BASH scripting has some odd programming constructs that are difficult to memorize. This book also tries to provide a ready-reference for such archaic but crucial details.
Target: Linux command-line warriors
First published: February 2021
Pages: 78
This is a heavily illustrated 2021 how-to guidebook for anyone interested in installing solar power systems. It starts with a simple introduction to home electrical systems, proceeds on to describe various aspects of solar power and options available for home owners, and then provides step-by-step instructions for installing a low-cost DC-only solar charge controller system for ₹6000 and a solar inverter system providing AC power backup for ₹30,000. Also included is an extensive FAQs section based on questions and reviews published by solar power users online. The paperback is a full-colour book and is extensively illustrated with drawings and tables.
Target: Solar power enthusiasts, DIY hacks, home-owners, electricians and anyone interested in solar panels, batteries, inverters, charge controllers, installation procedures and costs
First published: September 2021
Pages: 76 (FULL COLOUR)
The paperback is not printed in India and has to be imported from Amazon USA/UK.
Notes
Real content refers to pages not including title, copyright, ToC, preface, bonus content and backlist.
Actual paperbacks may not look like the 3D mockup images shown here.
I publish some books under pseudonyms. Ólafía L. Óla is a name I use for my children's books.
I would prefer my readers buy paperbacks. A paperback has a fixed environmental cost so it is the most environmentally friendly option. A paperback is made from commercial forests dedicated for paper pulp industry. On the contrary, an ebook imposes an ever-increasing burden on Nature, as it consumes electricity both in the datacenter ('the cloud') and in reader devices.
Indian ebook prices are considerably cheaper than in other countries because of the paperbacks are not printed in India. Amazon does not directly sell them and lets some third-party sellers on Amazon.in quote inflated prices for importing them.

Other books not identified here include:

The funniest book ever (by quality) with 149 political/satirical cartoons and commentary spread over 432 pages. Here is some praise that the book had received:

Hillary Clinton
"This is pure Indian propaganda!"
New York Times
"This book is full of lies, mostly sourced from our newspaper and other mainstream media outlets."
CNN
"This book may have more fake news than CNN but it is not the quantity that matters."

Two volumes of humorous tweets by a deceased Communist dictator.