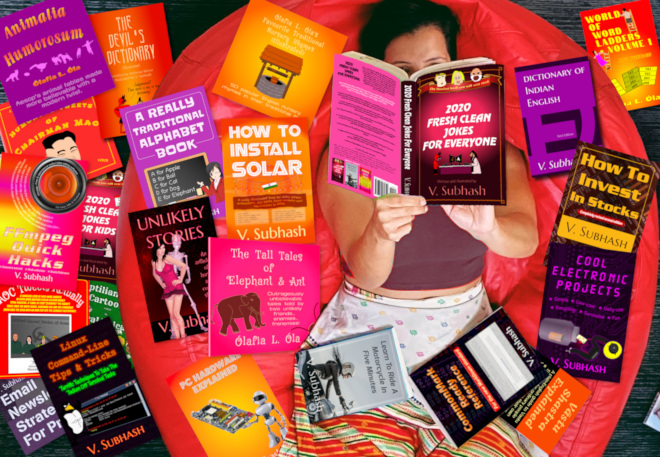 On this page, you will find information about all my books in one place.
Paperback books
www.amazon.com/author/vsubhash
Paperback books for children
www.amazon.com/author/olafia

I chose the name Ólafia L. Óla because it is difficult to imitate and it also contains 'laugh' and 'LOL'.

Ebook stores
Apple Books, Barnes & Noble, Kindle, Scribd, Vivlio and Tolino but no other ebook stores
Library apps
OverDrive (Libby) and BorrowBox but no other apps
Paperbacks books in India
My paperbacks are not printed in India. An imported delivery can take up to a month.

Amazon India

Do not buy if some third-party Amazon seller (an importer) quotes an unreasonably high price.

BooksWagon.com

Reasonable prices on Amazon pages.
Cheaper prices on their own site.
Seems to store user passwords as plain text in their database, which is risky. I have informed them. I do not know if they changed anything.

BookDepository.com

Reasonable prices in Indian rupees. Zero international shipping charges.
To pay using PayPal, change currency to dollars.

Free ebooks and PDFs
Check http://www.vsubhash.in/blogs/blog/2020-07-12-my-mailing-list.html. Do not worry. There is no mailing list. I have abandoned the idea. The books are free nevertheless.
Ebooks or paperback?
Choose paperbacks over ebooks.

A paperback has a fixed environmental cost so it is the most environment-friendly option. Paperbacks are made from commercial forests raised for the paper pulp industry.
On the contrary, an ebook imposes an ever-increasing burden on Nature, as it consumes electricity both in the datacenter ('the cloud') and in reader devices. If the ebook publisher becomes bankrupt, then all ebooks it sells may become unusable.
Do not trust the green swine.

Note

On this page, real content refers to pages not including title, copyright, ToC, preface, bonus content and backlist.
Actual paperbacks may not look like the 3D mockup images shown on this site, in the book backlist or anywhere else.
Book prices in various currencies are not interchangeable because of differences in local costs, taxes, royalties, external distribution costs, ebook download charges, etc.
Prices are subject to change.
The 2020 jokebook has the best one-liners ever written by one author in English. It has over 3100 jokes spread over three parts.
Part 1 (For Learning) is for kids. Part 2 (For Fun) and Part 3 (Only for intellectuals) are written for all ages. They provide hedonistic enjoyment of humour and also contain some extremely sharp political/satirical humour. Part 3 is clearly marked with warning signs to prevent accidental 'triggering' of sensitive adults. All jokes are family-friendly and child-friendly. No (‿ˠ‿) humour.
Pages: 292
Target: Ages 20 and above
First published: July 2020
Ebook: Never
Free sample PDF: 2020-jokebook-free-sample.pdf — 60 pages, 180 jokes

Buy from:
This is a subset of the 2020 jokebook with only 2200 jokes. It has all of Part 1 (For Learning) and some non-political jokes from Part 2 (For Fun) & Part 3 (Only For Intellectuals).
Pages: 166
Target: Ages 10 to 19
First published: July 2020
Ebook: Never
Free sample PDF: 2020-jokebook-free-sample.pdf — 60 pages, 180 jokes

Buy from:

Format
Store
Price
Paperback
Amazon.in
Paperback
Amazon.com
$11
Paperback
BN.com (USA)
Ebook
This will never be published. This book is for kids and kids should learn from physical books.
This was the first installment of the 2020 jokebook with 470 jokes when I wanted to test self-publishing. It has been retained as an ebook sampler. The paperback option provides less value for money compared to the final 2020 jokebook but it has almost all of the 'politically hot' jokes.
Need to process audio/video files without spending much on software?
Need a quick tutorial or desk-side reference for FFmpeg?
FFmpeg is THE BEST software to easily create, edit, enhance and convert audio and video files. It is a free and open-source command-utility available for Linux, Mac and Windows.
Quick Start Guide to FFmpeg is THE BEST book for an extensive FFmpeg tutorial, hack collection and quick reference. It is richly illustrated with color screenshots, code examples and tables to help you work with audio, video, images, animations, fonts, subtitles and metadata like a PRO.
Full-colour paperback: Yes
Target: Anyone who

Wants to create, edit and enhance audio/video files for free
Is looking for a quick introductory guide to FFmpeg

Free sample PDF: ffmpeg-quick-hacks-book-sample.pdf
First published in: 2020 as FFmpeg Quick Hacks by V. Subhash
Current title published in: February 2023 by Apress Inc.
This is the first book ever written on CommonMark, the new MarkDown standard.
CommonMark is replacing Markdown as the de facto standard for low-markup text. CommonMark hit the ground with a well-defined standard from Day 1 and is set to replace and overtake MarkDown. StackOverFlow.com and other sites have already adopted it. CommonMark is MarkDown done right. It is highly compatible with the original MarkDown and resolves most of its ambiguities. This book provides a tutorial, hacks collection and a ready reference for the new standard.
Pages: 60 (42 pages with real content)
Target: Authors, web designers, content/technical writers
First published: June 2020
Of course, you can learn to ride a motorbike in five minutes! For most of my life, I did not know how to ride a motorbike. But, when I had to do, it took me only five minutes. On my first ride on my first bike, I travelled nearly 100 kilometres, across two cities and one national highway. Acquiring the skill takes less than five minutes and honing it will require a few weeks of practice.
Pages: 40 (30 pages of real content)
Target: Anyone who can ride a scooter/scooterette (not the e-bike or skateboard thingy)
First published: July 2020
Common store link: https://books2read.com/motorcycling
Vastu Shastra Explained is a plain-English Vástu Śastra building-architecture guide for those who wish to draw their own Vastu-compliant house plans. The book does not upsell Vaastu as a panacea for all ills nor does it portray Vastu as the Indian Feng Shui. Instead, it presents Vastu as a collection of time-tested best-practices in Indian building architecture.
Pages: 40 (30 pages with real content)
Full-colour paperback: Yes
Target: Future home buyers/builders
First published on: July 2020
Common store link: https://books2read.com/vastu
The ebook can also be borrowed for a fraction of the price from many public and school libraries.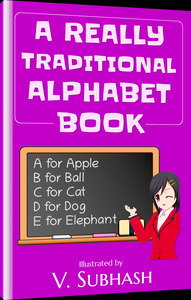 This children's book bundles an alphabet book (with a writing work area on each letter page) and a jokes-and-puzzles book. The alphabet book uses the same words that have been traditionally used to teach young kids. Young preschoolers can practice reading and writing the English alphabet with this book. The jokes and puzzles are of course new and are sourced from my book 2020 Fresh Clean Jokes For Kids.
This book not only explains how to create user-friendly email newsletters but also helps you improve email deliverability, organically grow your mailing list, understand industry-standard best-practices and apply practical troubleshooting tips and tricks.
Pages: 40 (33 pages of real content)
Target: Online marketers
First published: August 2020
This is an illustrated children's storybook based on Aesop's Fables. The stories have been made more believable by changing the ending with a humorous twist. The book is a large-print edge-to-edge colour paperback with a glossy cover.
Pages: 30 (26 pages of real content)
Full-colour paperback: Yes (edge-to-edge colour, large fonts)
Target: Ages 3 to 12
First published: October 2020
Common store link: https://books2read.com/animalia
Ólafía L. Óla will henceforth be my pseudonym of children's books. The ebook options are for parental review. I publish only paperbacks (not ebooks) for children.
This series of word ladder puzzles books currently has two volumes.
Number of puzzles:

100 in each paperback volume
200 in ebook

Target: Ages 6 and above
First published: December 2020

Buy from:
Is there a better gag gift than the Devil's Dictionary? This 2020 illustrated version of the text-only original (1911) by Ambrose Bierce has contemporary illustrations and the neat easy-on-the-eye look of any new dictionary (modern fonts, two-column pages, starting/ending words on every page).
Pages: 160
Target: Any normal human (that means excluding intolerant, lefty, liberal, progressive Communist, Socialist, Feminist,... excuses for human beings)
Illustrations: 17 (including Alexandria Ocasio Cortez (AOC), Bill Gates, Don Lemon, Elon Musk, Joe Biden, Tedros Adhanom... meeting the Devil)
First published: December 2020
Sample PDF: the-devil-s-dictionary-ambrose-bierce-ebook.pdf
Common store link: https://books2read.com/gag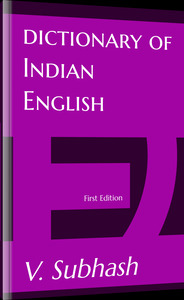 The Dictionary Of Indian English, in its first edition, is a glossary of English words or phrases that have been invented in India or have meanings that are different from the ones specified in dictionaries published in the West. Currently, it has around 400 words. In future editions, it will become a full-fledged dictionary.
Pages: 36 (26 pages of real content in the paperback)
Target: Non-Indians who need to read Indian fiction or news.
First published: December 2020
Common store link: https://books2read.com/indian
The political correctness pandemic has caused many nursery rhymes to be rewritten or eliminated altogether. This illustrated children's book has 50 popular English nursery rhymes in their traditional form.
Pages: 44 (40 with real content)
Full-colour paperback: Yes (edge-to-edge color, large fonts)
Target: Children under 5
First published: January 2021

Buy from:

| Format | Store | Price |
| --- | --- | --- |
| Colour paperback | Amazon | $12 |
This is a plain-English guide to investing in the stockmarket. It assumes that you do not know anything about how stocks, company law, finance or commerce. It has some useful 'extra' information that you will not find in any investment book and no business school will teach you. Mere book knowledge about stockmarkets will not help you understand the markets. Markets are influenced by news and information (there is a difference). This completely revised expanded second edition continues its original premise with up-to-date information.
This FULL-COLOUR paperback is a collection of 20 electronics projects for students and DIY hobbyists. The projects are simple, low-cost, daily-use, recycling, survivalist and fun.
Pages: 40 (33 with real content)
Full-colour paperback: Yes
Target: Any beginner electronics hobbyist
First published: February 2021
Kindle Unlimited: Available
This is a tips-and-tricks collection for Linux command-line warriors. Because of its ancient history, BASH scripting has some odd programming constructs that are difficult to memorize. This book also tries to provide a ready-reference for such archaic but crucial details.
Target: Linux command-line warriors
Full-colour paperback: Yes
First published: February 2021 (grayscale)
Second edition: October 2022 (colour)
Pages: 94
Common store link: https://books2read.com/shell
This is a heavily illustrated 2021 how-to guidebook for anyone interested in installing solar power systems. It starts with a simple introduction to home electrical systems, proceeds on to describe various aspects of solar power and options available for home owners, and then provides step-by-step instructions for installing a low-cost DC-only solar charge controller system for ₹6000 and a solar inverter system providing AC power backup for ₹30,000. Also included is an extensive FAQs section based on questions and reviews published by solar power users online. The paperback is a full-colour book and is extensively illustrated with drawings and tables.
Pages: 76
Full-colour paperback: Yes
Target: Solar power enthusiasts, DIY hacks, home-owners, electricians and anyone interested in solar panels, batteries, inverters, charge controllers, installation procedures and costs
First published: September 2021
The 2020 jokebook has an entire chapter devoted for a set of new Aanayum Urumbum jokes. That chapter has been made into this full-colour paperback with some new illustrations.
Pages: 24 (21 with real content)
Full-colour paperback: Yes (edge-to-edge color, large fonts)
Target: Kids (aged 4-9)
First published: December 2021
Kindle Unlimited: Available (for parental review)
Buy from:

| Format | Store | Price |
| --- | --- | --- |
| Full-colour paperback | Amazon | $6.70 |
The oldest article on this site has been updated and rolled into a book! This is the best illustrated guide to PC components in 2022. If you want to assemble your own desktop or if you are planning to buy a new laptop or desktop, read this book first.
Pages: 30 (22 with real content)
Full-colour paperback: Yes
Target:

New buyers of branded laptops and desktops
Assemblers of custom-made desktop computers

First published: December 2021
Kindle Unlimited: Available
This is my first fiction book. It is an anthology of horror and comedy stories woven around a very funny love story.
Common cold is not something you need to go to a doctor for. In young healthy individuals, it will resolve on its own. However, common cold does make one very miserable. In this book, I have described several palliative techniques that I have successfully tried to treat the symptoms.
Pages: 29 (8 with actual content (not including bonus content))
Target: Young healthy individuals who often contract common cold
First published: June 2022
Bonus content: Natural weight-loss techniques, an easy-to-cook vegetarian food recipe, dental care tips, skincare tips, and some family-planning advice.
Common store link: https://books2read.com/colds