Unlikely Stories

::: A novel anthology of horror & comedy stories by V. Subhash :::
This anthology is based on several real-life incidents that the author had encountered. After writing over two dozen exclusively non-fiction books, the author was forced by several governments to name this book as 'Unlikely Stories' and release it only as a fiction title (!) with this quaint description:
Boy meet girl. Both fall in love. Boy proposes marriage. Girl postpones decision for one month. Girl say she leave next day. Until then, boy try impress girl by telling stories — funny stories… scary stories… and all kinds in between. No worries everything end well.

The stories were tough to come by. Having given up on fiction years ago, the young man had to marshal some old personal anecdotes, wild tales told by others, and even some vividly detailed nightmares for his first novel. Like a male Scheherazade, he somehow wove those yarns together. They just about helped him bag his babe.
| Format | Store | Price |
| --- | --- | --- |
| Paperback | Amazon | $7.70 |
| Ebook | Amazon | ₹100, $3 |
Sample Pages
This low-resolution watermarked but fully functional PDF has a few sample pages from the book. You can review the PDF before your purchase.
More info about this novel
The entire book is in first person. Everything happens very fast. If you miss a line, you may miss a joke, the plot or even the finale.
There are no fake names in the novel because several of the characters exist in real life. There are two leads however both of whom are conveniently named Subhash.

The stories are mostly supernatural paranormal urban fantasies with ample doses of action, sci-fi, romance, horror and humour.

The trip: The lead is invited by his friend to spend the weekend at a resort. There, he meets the first heroine Vampira. She went through a vampire obsession phase recently and acquired a lot of tattoos and some dental surgery to look like a vampire. Although she regrets it now and has got rid of the tattoos, she still retains the fangs. That is why the lead refers to her as Vampira and not by her real name.

The swim: The lead decides that Vampira is the soul mate he has been waiting for all his life. He tells several stories to entertain his friend's kids and also impress Vampira.
The exorcist: The second lead is an Indian scamster who escapes to the US to start a new life. He attempts to go legit but finds competition from a professional medium operating under the trade name of Mademoiselle Zuma. (She is dangerous because she is secretely a mind-reader. She picked this name from an episode of the vintage radio show Duffy's Tavern.) He is forced to try his hand at performing an exorcism that the Church has given up on.
Alien encounter: After the successful exorcism, this lead is asked to help a teenager who has been repeatedly 'abducted' by an 'alien'. This story also includes a scientifically accurate discussion that convincingly proves the impossibility of alien presence on earth and the 100% likelihood of all UFOs and alien abductions being staged by governments. Hopefully, this story will help victims of these frauds achieve some sort of explanation or closure to their harrowing experiences.

The lift: A recently deceased security guard haunts a lift where he had died and seeks revenge.
Femme fatale: The second lead has a showdown with a female animal spirit.
The seance: A young woman in the city is troubled by nightmares involving a hooded skeleton. A newly married nurse in a rural area blanks out every night. She is also troubled by bizarre nightmares. Mademoiselle Zuma solves both cases.
The haunting: An old mansion is haunted by a presence. Every new buyer and his family gets driven to such desperation that they eventually sell. The current owner wants the paranormal activities investigated. The second lead tries and almost gets killed.
Family planning: The first lead and Vampira plan their life together. In the first ending, they get married. In the second ending (written by the lead after their first night), Stone Age Man (SAM) and Stone Age Woman (SAW) discover some truths about the mystery of life. This is an over-the-top parody of the controversy about men writing women.
Subscribe to my newsletter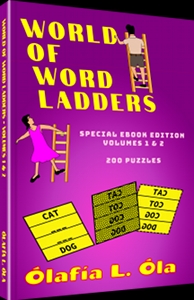 The details are mentioned in my email newsletter blogpost. Full/sample PDF ebooks of several books are listed in it. You do not have to subscribe to download them. However, if you do subscribe, you get a FREE 200-puzzle combined ebook version of my World of Word Ladders books.