Vintage radio shows on Archive.org
Old radio shows from the 1930s and 40s are being hosted as free MP3 files by the Internet Archive. Among them are old sitcoms that are as funny and entertaining as Friends or Seinfeld.
The first radio broadcast was made on Christmas Eve in 1906. By the 1920s, commercial radio networks run by the National Broadcasting Corporation (NBC) became popular. Television was invented in the 1930s but it languished due to World War II. Consequently, radio lasted as the popular medium for news and entertainment for over two decades. After World War II, radio lost the crown to TV. In the age of the Internet, networks such as NBC, ABC and CBS turned over their vast radio archives to the US Library of Congress and other institutions.
The decades 1930s and 40s are known as the "golden age of radio" in America. The process of archiving radio shows from this age has been slow but the Internet has taken the lead. Vintage radio enthusiasts have recovered radio shows from transcription disks (such as those given to the US Armed Forces Radio) and from personal collections. These radio shows are now freely available to the public as MP3 files. According to a leading archivist group, most of these radio shows were broadcast without copyright and are hence not covered by US copyright law. A non-profit organization named Archive.org (home of the Internet Archive and the WayBackMachine) is now hosting many of these radio shows. They cover several genres including crime/detective, mystery, Western, science fiction, romance and horror.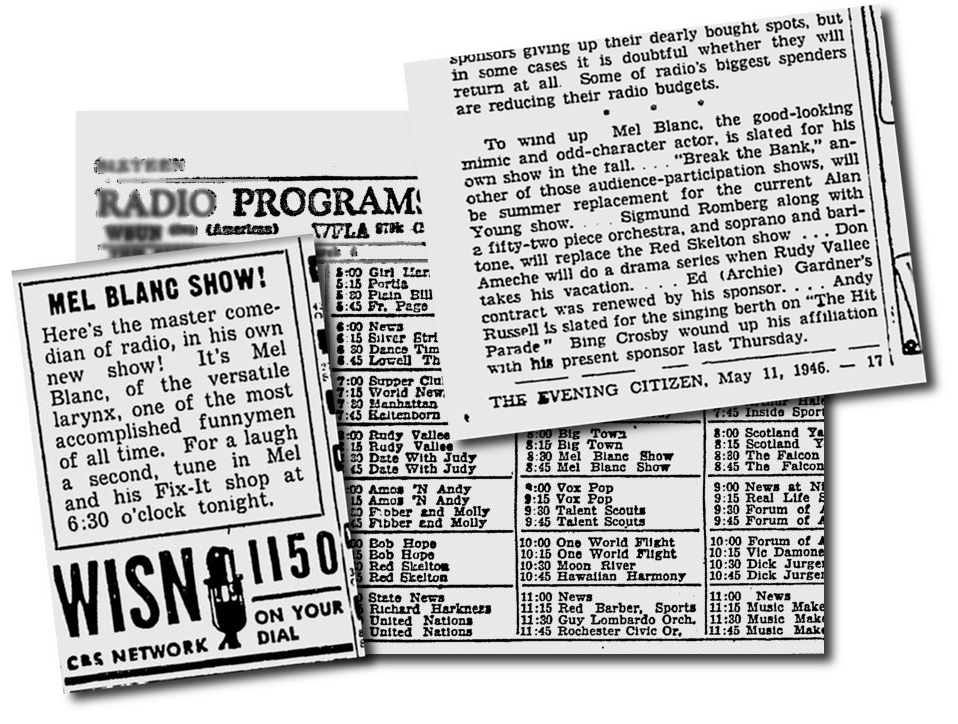 For today's listener, the payoff is in the richness of the content, as radio shows by definition had to have consistently sharp writing. An ordinary TV sitcom fan will find that old radio comedies have more jokes per dialogue than today's TV shows. Like podcasts, you can listen to vintage radio shows when relaxing at home or while jogging/exercising or when traveling/commuting.
Some popular radio shows
Here are a few comedy shows for starters:
Mel Blanc Show (1946-47)

Mel Blanc was the voice behind popular cartoon characters such as Daffy Duck, Bugs Bunny, Porky Pig, Foghorn Leghorn, Yosemite Sam and Speedy Gonzalez. Mel Blanc also hosted an eponymous "Mel Blanc Show". In this show, Mel speaks in his usual voice (that of Sylvester The Cat) and plays the role of a fix-it shop owner. Mel also voices the role of his assistant Zookie (who speaks like Porky Pig but with more stutter). Mel's unsuccessful attempts to impress the rich father of his fiancée Betty forms the crux of most storylines.

"Betty, we will elope... No, that's terrible. I just remembered his new shotgun.

Mel, stop worrying. You know father shoots nothing but blanks.

That's what I am worried about. [He used his real name in the show.]

Also in the cast is one Mr. Cushing who had married for the money but has greatly regretted it afterwards. Whenever he meets Mel, he lets loose a litany of unbelievable and outrageous complaints about her.

The other day, we had an argument and she said, "John, you are driving me to my grave." I got the car out of the garage in two minutes.

---

Yesterday, we were in a shooting gallery. As I picked up the gun, she stuck her face in front of me and says, "John, shoot the bull's eye. John, shoot the old duck." Damn! What a temptation!

---

Yesterday, I was spraying 10 gallons of DDT in the garden and she says, "John, spray the bugs. Kill the ants. Poison the old gopher." Damn! What a temptation!

---

I loaded the rifle. I was aiming it when the wife says, "Oh, John, I wanna use the rifle. John, let me have it. Come on, John. Let me have it." Damn! What a temptation.

Then, there is a vain Beau Brummel named Hartley Benson. He talks like a radio commercial and cannot be adequately described in words. Every interlude with Hartley Benson is radio gold.

Oh, it's you, Benson. I can't talk now.

I know how you feel, Mel. Everyone is struck speechless by the beauty of The Great Big Adorable Me.

---

Hello, Hartley, is it drizzling out?

No, Mel, it's merely the tears of thousands of women crying because they can't get The Great Big Adorable Me.

---

I am the prettiest thing in my life. Someday, I am going to make myself my wife.

---

In the words of the immortal John Keats, "A thing of beauty is a Hartley Benson."

---

What kind of line do you give women?

Mel, I take her hands in mine and say, "Has anyone ever told you how beautiful I am?"

---

I covered myself with suntan lotion but got an awful sunburn anyway.

That's odd.

No, it isn't, Mel. My body is so beautiful the Sun fought its way through.

---

I am so lovely as can be that perfume smells me.

Duffy's Tavern (1941-1951)

Duffy's Tavern was set in a rundown Brooklyn, New York bar. The main character is the manager Archie, played by Ed Gardner. Archie is obsessed with get-rich-quick schemes and rich/beautiful/famous women. The regular cast includes a screw-loose barfly Finnegan, a wise-cracking waiter Eddie, the bar owner's daughter Miss Duffy and a colorful Russian émigré Yasha Panyaslovnik. (It seems that Finnegan had been using "Daaaaaah" much before Homer Simpson made his "Duh" famous.) In one episode, Archie attempts to patent electricity on the advice of his crooked friend Slippery Joe. The dialogues of Slippery, voiced by Alan Reed of Fred Flintstone fame, should not to be missed by anyone. Ditto for episodes with singer/actress Shelley Winters and boxer Maxie Rosenbloom. The main attraction though was Archie - his many pretensions, the unintentionally self-deprecating humour and and constant stream of malapropisms. There are over a hundred episodes online that you can listen to. Archie recycled many of his scripts but the new ones are more funny than the original. (The mistakes in following dialogues are not misprints.)

Radio? Miss Duffy, I see you are still living in the Middle Evil Ages.

---

Joan, tell me my ears just heard a mirage!

---

Hey, Mr. Archie. Your friend Slippery McGuire is here.

How do you know?

I reached into my pockets and found myself shaking hands with him.

---

Hello, Washington? Patent Office? Clever Ideas Department, please.

---

Arch, the warden up at Sing-Sing [a well-known prison] wants to know if it's okay for them to use a little extra current tonight [not mentioned as for an electric chair execution].

Hmmm... for how long?

For about 30 seconds.

Tell'em it's okay.

Warden, throw the switch.... Arch, that was sweet.

Oh, you know, you got live and let live.

---

Here is one letter that I am thinking you will find extremely interesting.

A billet-doux from a female admirer?

No, a bill-overdue from the gas company.

---

Miss Duffy, did you send me a Valentine?

Isn't there a name on it?

No. No signature. Just unanimous.

---

I wonder if they still remember me out there. I once starred in a picture for Paramount.

Oh, yes, they are still talking about you.

Yeah? What were they saying?

I don't know. I am a lady. I always leave the room.

---

Do you mind of I sit down?... All these high heels are killing me.

They are killing me too.

Archie, do you think these black stockings go well with these shoes.

Black stockings? Yeah, very well... Mooking of speakies... Meeking of spookies... Speaking of movies...

---

Well, I ain't exactly saying I am filthy rich but I ain't exactly saying I am filthy poor.

No, he is just filthy.

Thank you... You see, Shelley, if I wasn't rich do you think this pheasant would insult me?

Well, if you had so much money, why are working in a place like this?

Look, Shelley, this tavern is just a hobby with me. ... Yasha, take the Rolls Royce down to one of me oil wells and fill it up with diesels.

---

How about your background... Your family.

Oh, them. My grandpater was also a millionaire, you know. In fact, I shouldn't really talk about my family fortune without giving him credit. You know, he was the original flounder. Started out as a poor boy until he Mayflower'd it over here with my grandmama and they were able to pick up Pennsylvania at the right price. So, I grew up on the estate and went to college.

So, what college did you go to?

Well, Dad wanted me to go to Harvard and mother wanted me to go to Yale.

What happened?

They compromised. That's when Dad built Princeton.

---

In love, he says. This is what he is telling all his wives...

No, Panya... Slovnik, stay away from this.

Ms. Winters, did he tell you he has four wives and 48 children.

48 children?

One for every state in the Union.

Oh, this is terrible. Where are the wives?

Standing by for Alaska and Hawaii.

---

Red Skelton shows (1938-1953)

If you had seen the movie "A Southern Yankee", then you would know Red Skelton. The Red Skelton radio shows were initially sponsored by cigarette companies. The shows start with a monologue by Red and then moves on to situational comedy sketches by his team. Famous characters he played include the cowboy DeadEye, the village idiot Clem Kadiddlehopper and the Mean Widdle Kid (of the "I dood it" fame).

https://archive.org/details/AvalonTimeRedSkelton

https://archive.org/details/RaleighCigaretteProgramStarringRedSkelton

Fibber McGee & Molly (1935-1956)

This 30-minute sitcom was one of the longest running shows in the golden age of radio. It featured real-life married couple Jim and Marion Jones as Fibber & Molly McGee. The adventures of bumbling Fibber and the exasperated Molly along with their colorful friends and acquaintances form the storyline. Like Duffy's Tavern, there are dozens of episodes for this show on Archive.org.

https://archive.org/details/FibberMcgeeMolly1930s
Vintage Radio Commercials
Old radio shows are interesting for another reason - the commercials. The golden age of radio was also a time when many household staples, such as toothpaste (as opposed to toothpowder) and detergents (instead of soaps), were promoted to the public. One tobacco company, which sponsored Red Skelton shows, claimed that "medical science" had provided "proof positive" that their brand was the best for smokers' health than other cigarettes! Product placement was exceptional and the radio medium was tailor-made for it. Commercial messages were written into the dialogs and entire characters built around them.
We also get to hear casual references to politics, war, famine and suffering. In one unusual episode, Duffy's Tavern replaced its regular programming with a serious drama (by a different cast of characters) about the famine in India - to urge Americans to contribute money for famine relief.
We can also note how the political correctness epidemic had an early start. In one episode, Red Skelton tells how "newsboys" (at that time) wanted to be called as "newspaper boys"!
History of radio
According to the Library of Congress, radio broadcasting began in 1926 when the Radio Corporation of America (RCA), a subsidiary of Westinghouse, bought a New York City radio station operated by AT&T (since 1922) and amalgamated it with its own Newark station (started in 1921) to form the National Broadcasting Corporation (NBC). By 1927, NBC had two networks, Red and Blue, with a total of 25 stations. In the same year, another network named Columbia Phonograph Broadcasting System came into being. It later changed its name to Columbia Broadcasting System (CBS). The original investors which included a phonograph company were bought off by the new owner, a tobacco magnate. The US Federal Communications Communication (FCC) forced a split of NBC and its "Blue" network was bought by a candy company. It became the American Broadcasting Corporation (ABC) in 1943.
Regular radio shows required serious production effort including radio actors, writers, props, and orchestra. Many shows were recorded in front of a live audience. Thus, the comedy shows had the laugh track added live during the original taping. When these shows were not on air, music, news and interviews with local notables filled the gaps. World War 2 added to the popularity of radio.
Initially, Hollywood was not interested in radio. But, as radio stars moved to Hollywood, Hollywood started producing radio shows based on their old and new movies - it was good publicity. A good example is the Lux Radio Theater. Advertising seems to have been largely provided by tobacco companies and makers of soaps and cosmetics.
In 1928, television made its first appearance. In 1935, the German government started the first regular TV transmissions with 90-minute broadcasts three times a week. In the UK, the BBC started television broadcasts in 1936. In the USA, NBC started with two hours of TV broadcasting per week from 1939. At that time, RCA began selling television sets whose screens were 12x5 inches. World War II distrupted television manufacturing and broadcasting, as factories were diverted for the war effort. Only six TV stations with limited programming was left to cater to 10,000 "TV receivers." Hence, radio continued to rule the air waves in the 40s. When the restrictions were lifted in 1946, television sales grew exponentially. Initially, TV broadcasts were mostly seen in bars and restaurants but by the end of the decade the number TV sets in use was in the millions. Many radio stars had moved to TV and they made their old radio shows even bigger hits on the small screen. There was a Duffy's Tavern movie and a Duffy's Tavern TV show too. The movie was noted for the huge cast of famous stars who had earlier appeared on the radio show but it did not do well at the box office. The TV version also did not last long. Apparently, Duffy's Tavern's main strength lay in the clever use of dialogue written by Gardner and it was mostly lost on the screen. Red Skelton had no such problems. He was a great pantomime artist and his histrionics extended to physical comedy. So, he had a much longer run on TV. From the 60s onwards, radio programming catered to Americans commuting in their cars. (This change can be observed in newer shows such as that of Sears.) However, the golden age of radio had clearly ended.
Clockwise from left: Skelton thinks the "laws of gravity" have changed, after his wife rearranges the room furniture a bit to cure him of his drinking habit; Skelton as the cowboy DeadEye; Skelton solves the Los Angeles smog problem and unsolves a new mosquito problem; Skelton, as the village bumpkin Clem, strikes the New York art scene.
Vintage radio shows live forever
Vintage radio shows that are online now make an interesting form of alternative entertainment for us in the present. The payoff for the listener is in the richness of the content. As they lacked video, radio shows by definition had to have consistently sharp writing. A TV sitcom fanatic will definitely find that old radio comedies have more jokes per dialogue than today's TV shows. Unlike podcasts, vintage radio do not seem to lose their value no matter how many times you have listened to them. But, like podcasts, you can listen to vintage radio shows when relaxing at home or while jogging/exercising or when traveling/commuting. Why, you might even delude yourself and wax nostalgic as if you were really around at that time!
---
References