With Western governments shooting themselves in the foot by sanctioning Russian energy supplies, citizens there are facing inflationary prices for fuel, electricity and even food.
Sales of ebooks and paperbacks in those markets have suffered. As is my wont, I do next-to-nothing on marketing. I used to have two free ebooks — 400 Fresh Clean Jokes For Everyone (https://books2read.com/jokes) and FFmpeg Quick Hacks (removed from sales as required by the new publisher).
Recently, I had a brainwave. Why not make the Linux command-line book free? I have been regularly updating it. It gave fodder for four magazine articles. Some jerk gave it a one-star rating after I made it temporarily free in 2021. Nobody has ever bought it after that. The Commonmark book has been making some sales but it is a very thin book. The Linux book is also thin but I created it to replace three books that I regularly used as references. Both books are more useful as paperback references than as ebooks. So, I made both ebooks perma-free.
In the last two days:
Sometime, this year, I added syntax-highlighting to all code snippets in the first book. It seemed a waste because the paperback was printed in grayscale.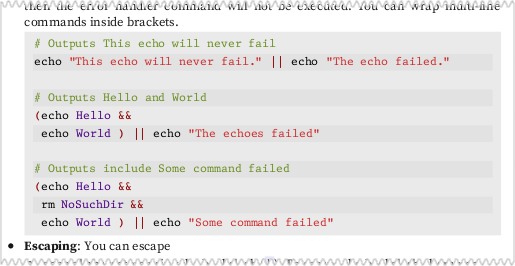 Meanwhile, Amazon had introduced a standard color paperback option, which is cheaper than their premium color paperback option. When I checked the cost calculator, the new colour option came to the same price as the grayscale option. I then registered a new ISBN for the second edition of the book and used with the standard color option on Amazon. I unpublished the older grayscale paperback but it continues to be linked to the ebook. According to Amazon support, only after all copies with third party sellers have gone will the new colour paperback be linked to the ebook. This could take months.
---
When I first installed the Kindle app, I downloaded a lot of free ebooks. Among them was Jason Cannon's Bash Command Line Pro Tips. I gave it a 5-star review but later wrote a competitor several times bigger in page count. Anyway, both books sit side-by-side as the only top Linux books in the free category.
The CommonMark book also has no competition.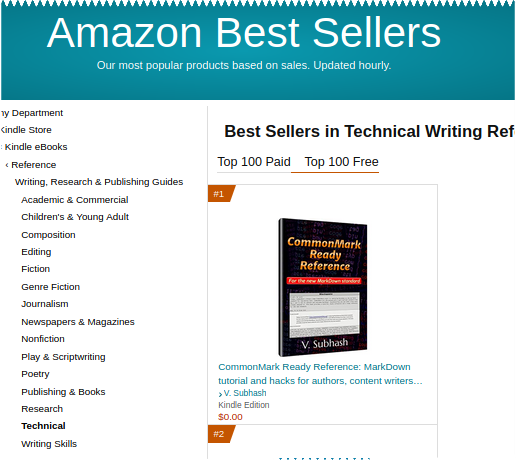 ---
People on Reddit found an error in the Linux book. I corrected it and updated the ebook and paperback versions today. They also found an error in the back cover blurb of Unlikely Stories. I updated that too. People on Reddit also confirmed that its covers have the intended effect. As mentioned in the preface of the book, I designed them like those on James Hadley Chase novels.
---
I made my stock investment ebook free because nobody ever bought that either. I think this is because it has some useful 'extra' information that you will not find in any investment book and no business school will teach you.